In Memory
Thomas Davis (Paramoure)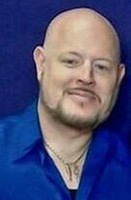 During telethons, Thomas Paramoure monitored sound levels for up to 20 microphones on two stages while also layering in music. The sound technician at the Largo affiliate of the Christian Television Network was a model of calmness, co-workers said.
But since childhood, Mr. Paramoure had stressed plenty. The son of a black father and white mother with Jewish roots, he had faced rejection by both white and black peers.
"It was painful for him," said Alvin Lewis, a black man who was Mr. Paramoure's closest friend. "Prejudice has no color."
The last 10 years or so, Mr. Paramoure had found a home in the close-knit production crew at CTN. Before that, he traveled abroad and across the country, singing with his first wife, Ronda Paramoure, and two of their children for the ministry of televangelist Morris Cerullo.
After getting an online theology degree from Tabernacle Bible College, he referred to himself as a rabbi in the messianic tradition, Jews who have been saved by Jesus. In worship studies, he taught both the Torah and the Bible.
"Because he came from a biracial background, I think it was intuitive to him to blend the cultures," said Lewis, 53, who leads a small group of Christian worshippers who draw heavily on Jewish culture.
Thomas Jarreau Paramoure was born in St. Petersburg in 1962. He graduated from Hillsborough High and the University of South Florida. He and the former Ronda Carmichael, a Christian jazz singer, had been married 27 years when she died in 2010, of cancer.
In 2011 he married Theresa Perkins, a divorcee who had been praying for the right man. He told her several times a day that he loved her.
Mr. Paramoure called his wife on the afternoon of Oct. 30 to tell her again. "He told me he loved me, that he was grateful to be married to me and he was a happy man," said Theresa Paramoure, 49.
When Mr. Paramoure did not return to their home in Tampa by early evening, his wife became anxious.
An overnight crew at the television station found him at the start of their 11 p.m. shift. Mr. Paramoure was lying on the floor as if taking a nap, which he sometimes did before braving the rush hour traffic.
Officials determined that he had died. Mr. Paramoure was 51. His family believes he had a heart attack.
Co-workers found notes for the Bible study he was to lead, originally planned for that day before it was rescheduled. On his desk lay the devotional text opened to Oct. 30, with text from Genesis 2, verse 21.
And the Lord God caused a deep sleep to fall upon Adam, and he slept.
Andrew Meacham, Times Staff Writer, can be reached at ameacham@tampabay.com or (727) 892-2248.